The Heritage Gardens of Black Creek Pioneer Village combine practicality and beauty.
The Herb Garden
Location: Between the Laskay Emporium and the Harness Shop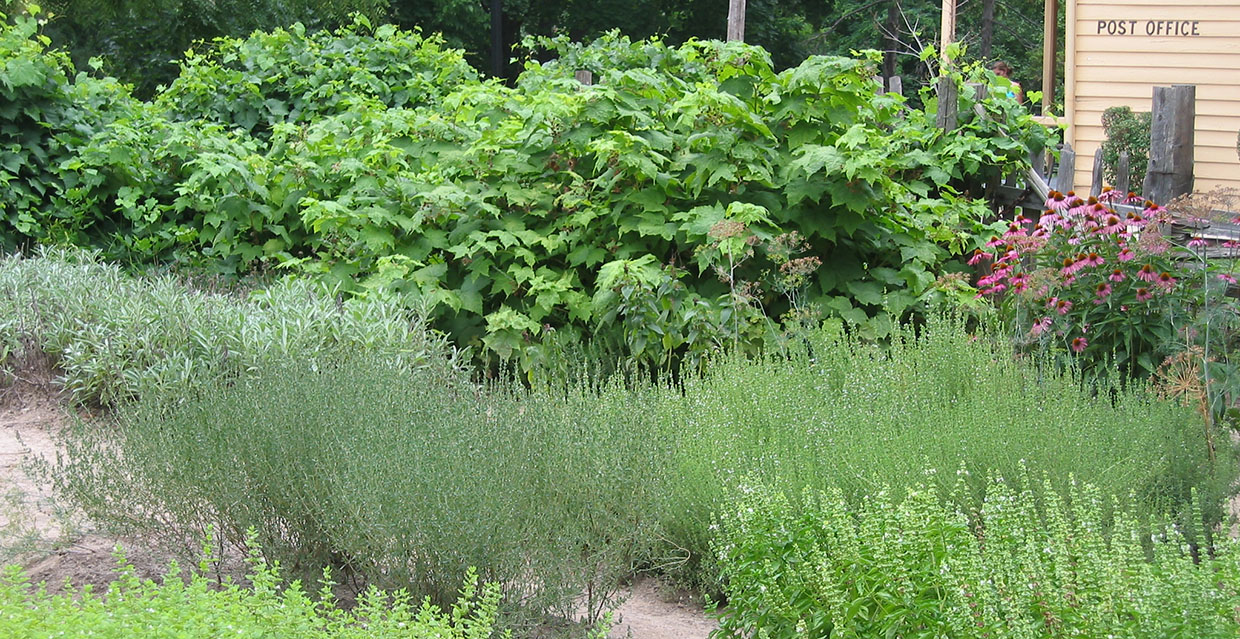 This garden contains herbs that were commonly grown by settlers. (Key: (P) perennial; (A) annual)
BEE BALM (P): leaves steeped to make tea.
CHIVES (P): a culinary herb used for flavouring.
COMFREY (P): used for ruptures, broken bones and to heal wounds.
HOREHOUND (P): used in candy and syrup for coughs, colds, and other lung complaints.
HORSERADISH (P): leaves placed in soles of shoes to relieve tired feet.
HYSSOP (P): flavouring for liquor and honey; oil used in perfume.
LAVENDER (P): cured convulsions, dropsy, fainting.
LEMON BALM (P): tea for headaches, fevers; stewing herb.
PARSLEY (A): relieved bloating of the bowel, stomach.
RUE (P): improved sight, sharpened wit, cured madness and drove out devils.
SAGE (P): eased hoarseness and a cough, used as a diuretic.
SWEET BASIL (A): applied when stung by wasp.
THYME (P): for headaches and respiratory ailments
---
The Doctor's House Garden
Location: On the grounds of the Doctor's House
Black Creek Pioneer Village is indebted to the Southern Ontario Unit of The Herb Society of America for its generosity in the development and maintenance of this garden.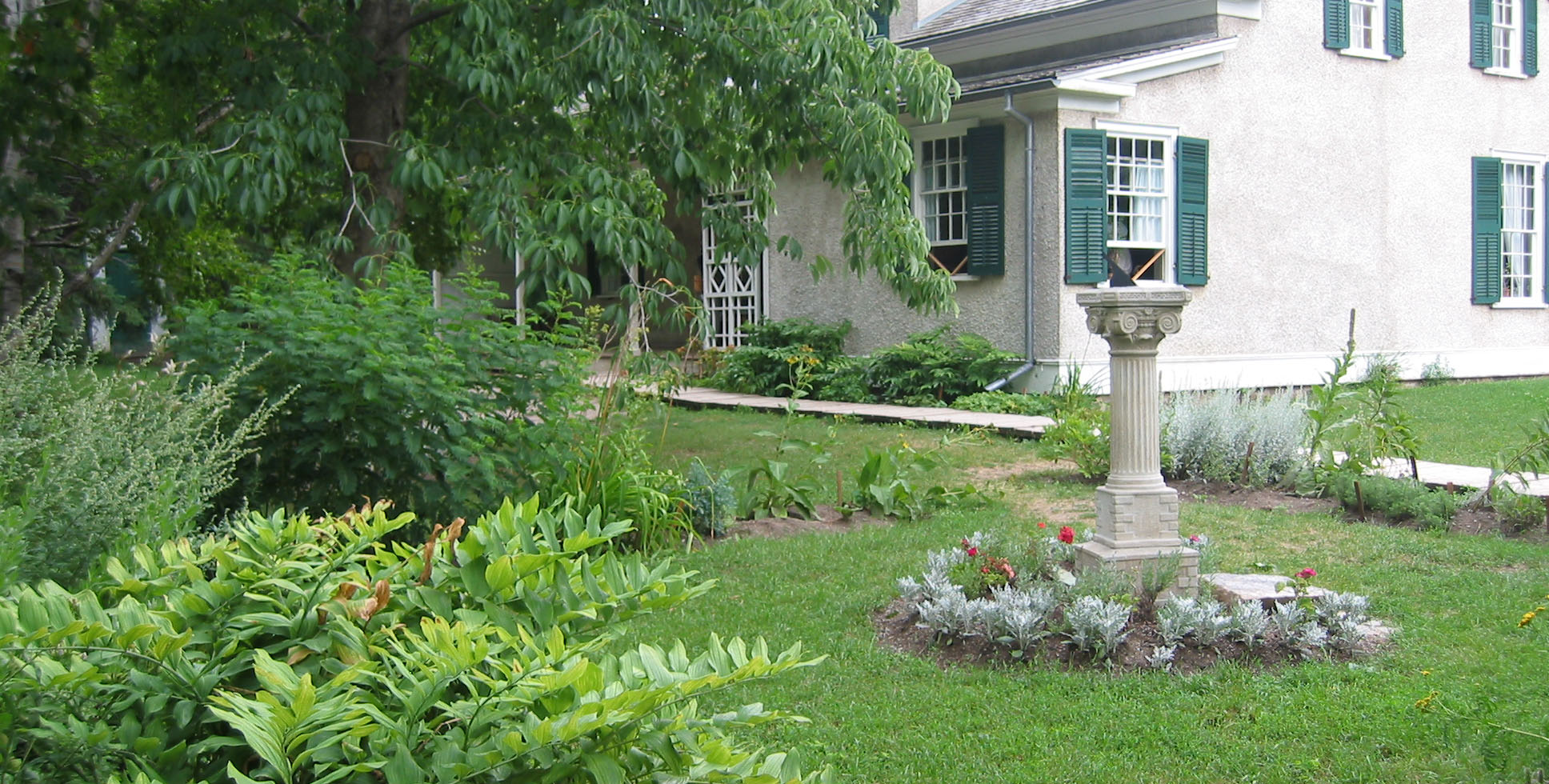 ---
Second House Vegetable Plot
Location:  Behind the Stong Family's Second House
---
Burwick House Garden
Location: On the grounds of Burwick House
A mid-Victorian garden featuring geometric "island beds" filled with seasonal displays of bulbs and annuals. It also includes a kitchen garden typical of the 1860's, displaying heritage varieties of herbs and vegetables.
---
The Stong Apple Orchard
Location: North of the Grain Barn
Apples were the most important harvest fruit of the pioneer. Next to the Grain Barn stands an apple orchard containing varieties of trees that the Stong Family grew in their original orchard. These varieties, rarely found today, include:
Rhode Island Greening: One of the oldest historic apple varieties originating in North America, it dates back to approximately 1650. It ranked among the most important commercial varieties in the northeast during the 1800's, second only to the Baldwin variety. The fruit is lighter green when fully ripe, with a tart flavour that makes it a prized pie apple. Harvested in late October, it has been known to yield 20 barrels from a single tree in one season.
Snow: Named for its snow-white flesh, this heritage variety was first grewn in southern Quebec along the St. Lawrence River, from seeds brought over from France in the late 1600's or early 1700's. Most likely one of the parents of the McIntosh variety, the Snow ripens in early October and has a distinctive taste and texture.
St. Lawrence: Harvested in early September, this variety is difficult to store because it tends to breaks down quickly after harvest. The St. Lawrence originated in the Montreal area pre-1835. Popular in the 19th century for making pies, preserves, and tarts, it is a variety seldom found today.
Tolman Sweet: While its origins are unknown, some believe the Tolman Sweet's parents to be the Sweet Greening and Old Russet varieties of the 1820's. Harvested in early October the Tolman Sweet is greenish-yellow apple that can be stored for several months. Known for its unique texture and flavour, it is a popular baking apple that also makes excellent hard cider.
Wolf River: The Wolf River variety is a large-to-enormous apple that ripens in September. A greenish-yellow fruit with red striping, it is great for cooking or making applesauce and apple butter. According to lore, a settler named William Springer brought the seeds of a variety known as Alexander from his Wisconsin homestead in 1856, and planted them along the banks of the Wolf River, near Freemont, in his new home of Quebec.