Endless possibilities, in a timeless setting.
The historic atmosphere, exceptional banquet facilities and catering services make Black Creek an ideal location for hosting small or large functions including:
Weddings, Anniversary Dinners, Bridal Showers, Retirement Parties, Fundraisers, Bar & Bat Mitzvah… or any other special occasion
Ceremony Locations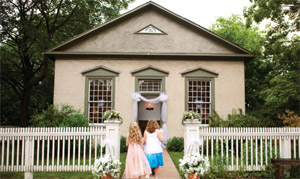 Fisherville Church
Built in 1856, this lovely candlelitvenue features boxed pews for guest seating and a high pulpit. 120 Guests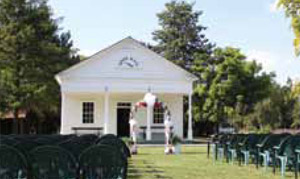 Town Hall Green
Located in the heart of the village, this picturesque green space provides a romantic and charming setting. 180 Guests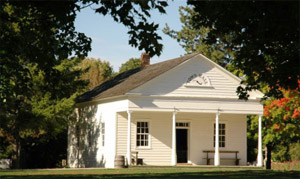 Town Hall
Located in the heart of the village, built in 1858, this naturally lit building features bench seating and a raised platform. 90 Guests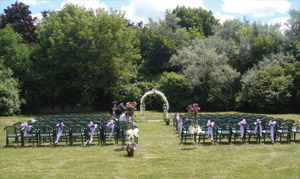 Victoria Green
Let our natural, lush green space be the backdrop for your wedding ceremony. This private and enchanting space is an extention to the Victoria Reception Hall. 180 Guests
Reception Venues

The Canada West
Our signature room features elegant wood beams, a beautiful built-in wood bar, dance floor and adjoining patio area overlooking the Black Creek Valley. Banquet 130 Guests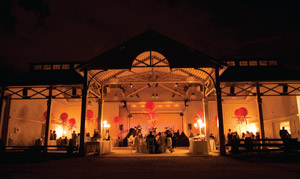 The Grand Pavilion
Celebrate your marriage under the stars in our unique outdoor event venue. Located in the heart of the village, this sheltered space creates the perfect setting. Banquet 180 Guests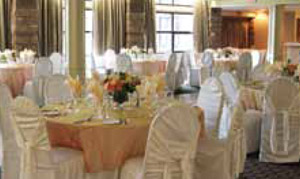 The Victoria
Our classic and sophisticated room provides endless style and design options for your indoor reception.This space features a built-in bar, dance floor, and large windows that look out to the beautiful Victoria Green. Banquet 90 Guests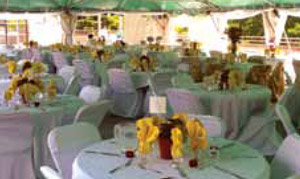 Black Creek Patio
Our tented patio, overlooking the Black Creek Valley, provides a casual yet sophisticated setting for your wedding reception and ceremony. Banquet 150 Guests
---
Black Creek Classic Menu Package
Hors D'Oeuvres
Choice of Five
Potato Skins with bacon & cheddar cheese GF
•
Baby Tomato and bocconcini skewer GF
•
Smoked Salmon on cucumber rounds GF
•
Mini Pork Tacos
•
Lemonade Soup Shooter
•
Wild Mushroom Risotto Croquettes
•
Mini Yorkies
•
Zucchini Fritters
•
Sliders
•
Herbed goats cheese truffles GF
•
Italian Sausage with Blueberry Mustard
•
Curried Chicken Wanton
•
Mini Black Creek Chicken Club
•
Ricotta Gnocchi
•
Sumac Crusted Prawn
•
Steak Crostini
•
Mini Falafel
Dinner Menu
Salad
Choice of One
Black Creek Gardens
Mixed baby greens with hot house cucumber, cherry tomato, organic pea tendrils and Niagara wine vinaigrette
•
Rocket & Rhubarb
Arugula, shaved fennel, toasted pine nuts, goat cheese with a local rhubarb & Riesling vinaigrette
•
Baby Spinach
Grapefruit segments, shaved pecorino, poppy seed brittle with a citrus Champagne vinaigrette
Mid-Course
Choice of One
Black Creek Charcuterie (served family style prior to Salad course) Farmers sausage, Black Creek Farm pickled veggies, House made ricotta, Applewood Bacon jam and smoked beetroot hummus
•
Black Creek Summer Garden Gazpacho Chilled Soup with garden tomatoes, cucumber,peppers finished with extra virgin olive oil and roasted garlic crouton GF
•
Sweet Summer Corn and Chorizo chowder with cumin cream
•
Carrot and fennel with black olive oil and crispy chickpeas soup GF, V
•
Penne pasta with tomato sauce, roasted garlic, shaved parmesan and fresh basil
•
Fusilli pasta tossed with basil pesto and finished with parmesan cheese and toasted pine nuts
Entrée
Beef 
Braised Short Rib with Black Creek Porter & roasted garlic gastrique
•
Grilled steak with Black Creek steak rub and seasonal compound butter

Poultry
Chicken breast supreme with pan roasted grapes and red currant reduction
•
Cornish game hen stuffed with summer savory goat cheese and garden tomato confit

Fish
Salmon with preserved lemon and Garden herb Chimichurri sauce
•
Local Ontario Trout with Niagara wildflower honey and lemon chamomile butter sauce (seasonal)

Vegetarian
Mediterranean vegetable ratatouille served over grilled polenta GF
•
Eggplant Parmesan
Entrée Accompaniments
Choice of Two
Roasted garlic mashed Yukon gold potato
•
Garden New Potatoes with extra virgin olive oil and sea salt
•
Maple Roasted Root Vegetable
•
Green beans with dill and roasted garlic
•
Buttered Baby Carrots and Sugar Snap Peas
•
Seasonal composition of local fresh vegetables
Dessert
Choice of One
Super Caramel Crunch- toasted pecan meringue, buttery caramel and Chantilly cream
•
Fresh Fruit Sorbet served in waffle cups with berry sauce GF, V 
•
Seasonal Cheesecake
What Your Package Includes: 
Facility Rental fee for Reception • Open Bar Service* • Wine on the Tables with Classic Menu* • Complimentary Champagne Toast • In-house Catering • Wait Staff and Bartenders • Two Complimentary Vendor Meals • Tables and Chairs • Standard Table and Napkin Linens* • Bridal Suite* • Cake Cutting* • Coffee and Tea Station • Parking and Admission Fees for Guests • SOCAN and ReSound License fees • Photo Permit • Menu Tasting for Two
       * Inquire for more menu options and upgrades
 Buffet or Cocktail Reception Menus Available
Vegan (V) and Gluten Free (GF) Options
~
***Please inquire about our seasonal menu options***
Book a Photo Permit
Available during hours of operation:
May to June
Weekdays 9:30 a.m. – 4:00 p.m.
Weekends 11:00 a.m. – 5:00 p.m.
July to September 5
Weekdays 10:00 a.m. – 5:00 p.m.
Weekends 11:00 a.m. – 5:00 p.m.
September 6 to December 23
Weekdays 9:30 a.m. – 4:00 p.m.
Weekends 11:00 a.m. – 4:30 p.m.
To learn more about hosting your event at Black Creek Pioneer Village, or to book a tour of our facilities please contact us at weddings@trca.on.ca or 416-667-6295